Commercial Solar Solutions
Get independence from rising electricity or diesel prices and reduce operating cost with our customised Solar Power Systems with capacity from 50kW to 10MW
Customer Success Story
NEOSUN Energy has been delivering leading quality commercial solar installations to businesses from large corporates to SME's. See how we've helped customers go green and save money on their power bills by installing solar in these various different installation conditions.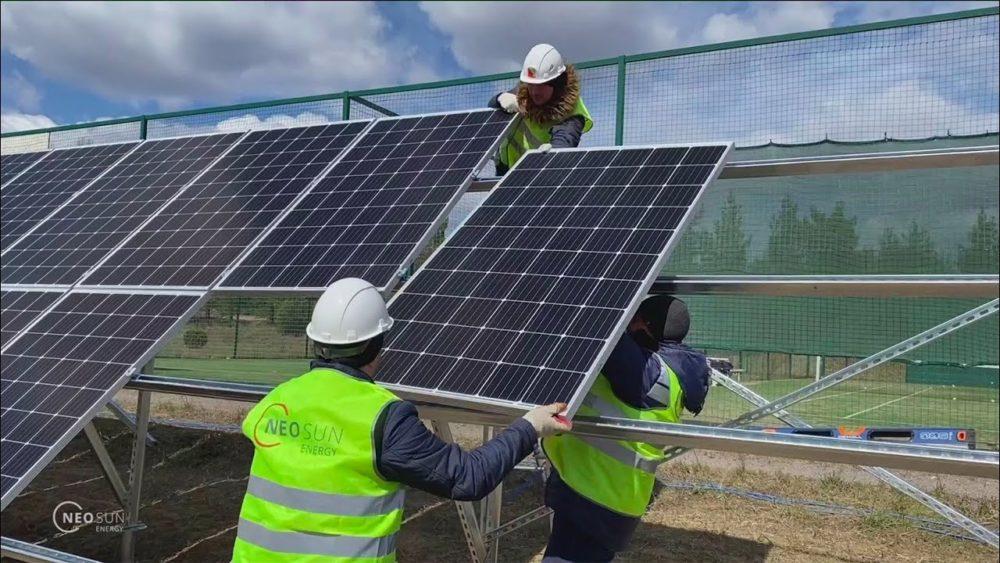 More cases
Our services
NEOSUN Energy provides customised solar PV power solutions for commercial, agricultural and industrial properties to offer maximum flexibility and efficiency in the generation, consumption and storage of solar power. With NEOSUN Energy, your business will have the opportunity to leverage world-class solar solutions with little capital costs. Read more about our EPC offering.
Design & Engineering
NEOSUN provides complete electrical and mechanical design services to correctly size your system and provide for seamless integration into your existing infrastructure. Our in-house solar experts bring advanced, innovative and cost-effective solutions to every project they engage in. All our designs are optimized to achieve the highest returns and allow for efficient implementation.
Construction
NEOSUN provides a turnkey construction service to ensure one point of contact and responsibility throughout the construction process. All required Health, Safety and Environmental Compliance is adhered to at the highest level. Our in-house team manage all on-site activity including permitting, site-prep, construction, interconnection and commissioning.
Procurement
NEOSUN has a network of international suppliers including its own solar panels production facilities to provide cost effective and high quality system components. Every supplier and construction partner we use needs to pass a stringent selection and accreditation process.
Operations & Maintenance
We provide Operation and Maintenance services to continually ensure that your system is operating to its maximum efficiency. By maintaining the solar plant operation, we guaranty that your system continues to produce energy at maximum levels throughout the life span of the system.
Industries
Every industry is different and NEOSUN has extensive experience across a broad range of industries. Select your industry below to see the best solution specifically for your business:
Warehouses
& Shopping malls
Car parking
& autodealers
Why should I spend time and money on solar?
Electricity rates go up year after year and are impossible to predict. For example from 2012-2018, energy expenditures for businesses increased 67%. At the same time, solar is more affordable today than ever before. Since 2012, the cost of going solar has decreased 84%. The sooner you decide to go solar, the more you can save.
Investing in solar now protects your business from price volatility. Depending on your location and whether you choose to buy or lease your solar system, you can lock in low electricity rates for 30 years or more, and even eliminate 100% of your electricity bill.
What is the lifespan of a solar panel?
A solar panel typically lasts approximately 30~40 years. During that time, most systems require little to no maintenance beyond removing leaves or snow and hosing off debris. In general, the life of solar panels depends on the quality of the solar panel technology used, including the photovoltaics (PV), and the quality of the overall installation.
Annually, solar panels lose close to half a percent in overall performance. After 25 years of operation, high-quality solar panels will still be operating at almost 90 percent efficiency.
If solar is so great, why isn't everyone doing it?
Actually, a lot of well-known companies have gone solar and more businesses are going solar today than ever before. The fact is, the cost of solar makes it an increasingly viable money-saving solution as utility prices continue to increase.
Over the last ten years, solar has grown at an average annual rate of 68%, and the trend shows no signs of reversing. Top corporate brands like IKEA, Walmart and Apple are adding solar at an impressive rate, and the influence these brands wield on consumer lives means more people are opting for clean energy of all kinds.
How much does solar system cost?
Today, solar costs less than traditional electricity in many markets. Usually from $800 to $1000 per 1kW. The cost of your solar system depends on several factors, including your current energy usage, your available amount of unshaded roof space, your location, roof shape and other factors. To get consultation or an accurate cost calculation of your project please contact us.
How much will I save with a solar system?
The financial benefit provided by solar power will depend on the size of the system. The larger the system, the larger the financial benefit. A detailed calculation of your potential return on investment (ROI) will be provided by NEOSUN during your solar evaluation. Please contact us to get more information.
What size systems are available?
Our commercial systems range from entry level 30kW – 50kW units up to large-scale 500kW+ production facilities. The modular design of the solar components means packages can easily be scaled up or down depending on your specific requirements.
Is any maintenance required?
Solar power systems require minimal maintenance, however we provide an operation and maintenance plan for you to follow to ensure your system will operate efficiently.
Yes. The solar panels come with a 25 year performance warranty. Inverters come with 5 to 10 year product warranties. NEOSUN Energy also provides workmanship warranties for all work completed on your property.
Book a free Consultation and get a personal Quote
Book a free Consultation and get a personal Quote